"We are pleased to welcome another extraordinary group of researchers to the University of Toronto, including a new – and expanding – robotics research cluster at U of T Mississauga. Our new colleagues significantly increase the diversity and reach of our research, scholarship and teaching, taking us into areas of Computer Science well beyond what we have traditionally covered." – Ravin Balakrishnan, Professor & Chair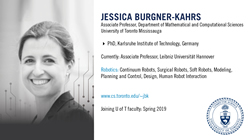 Jessica Burgner-Kahrs
Associate Professor, Department of Mathematical and Computational Sciences, University of Toronto Mississauga
Dr. Jessica Burgner-Kahrs is currently an associate professor heading the Laboratory for Continuum Robotics at Leibniz Universität Hannover, Germany, where she started her independent career in 2013. She graduated from Universität Karlsruhe (TH) in computer science in 2006 and obtained her doctoral degree from the Karlsruhe Institute of Technology (KIT), Germany in 2010. She was postdoctoral research associate at Vanderbilt University, U.S. from 2010 to 2012.
Dr. Burgner-Kahrs' research focus lies on small-scale continuum robotics and in particular on modeling, planning and control, design as well as human-robot interaction. In 2015 she was awarded with the Heinz Maier-Leibnitz Prize, the Lower Saxony Science Award in the category Young Researcher and named Young Researcher of the Year in Germany, 2015. The Berlin-Brandenburg Academy of Sciences awarded her the Engineering Science Prize in 2016. She was elected as one of Germany's Top 40 under 40 in the category Science and Society in 2015, 2016 and 2017 by the business magazine Capital. Dr. Burgner-Kahrs will shape and strengthen robotics research and teaching.
Joining U of T faculty: Spring 2019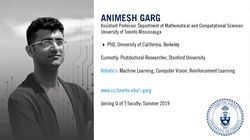 Animesh Garg
Assistant Professor, Department of Mathematical and Computational Sciences, University of Toronto Mississauga
Dr. Animesh Garg is a graduate of University of California, Berkeley in artificial intelligence research and will join U of T after completing a postdoc at the Stanford AI Lab.
Dr. Garg's research focuses on generalizable autonomy for robotics. This involves an integration of perception, machine learning and control in the real world. He will focus on dexterous manipulation in personal and surgical robotics. He will be a boost to robotics at UTM and the tri-campus graduate department of computer science and will add reinforcement learning expertise to our machine learning group.
Joins U of T faculty: Summer 2019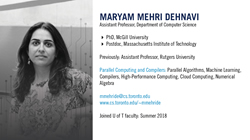 Maryam Mehri Dehnavi
Assistant Professor, Department of Computer Science
Dr. Mehri Dehnavi joins the department as an assistant professor from Rutgers University. Previously, she was a postdoctoral researcher at Massachusetts Institute of Technology (MIT) and a visiting scholar at University of California, Berkeley. She received her PhD from McGill University in 2013.
Dr. Mehri Dehnavi is the recipient of the National Science Foundation Research Initiation Initiative (NSF CRII), Natural Sciences and Engineering Research Council of Canada Graduate Scholarships-Doctoral Program (NSERC CGS-D), NSERC Postdoctoral Fellowships (PDF), and the Fonds Nature et technologies (FQRNT) awards. Her research has received the grand final prize of the 2017 Association for Computing Machinery's (ACM) Student Research Competitions (SRC). Her interests are scalable machine learning algorithms, domain-specific compilers and programming languages, cloud computing, parallel algorithms and high-performance computing.
Joined U of T faculty: Summer 2018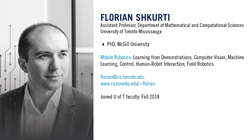 Florian Shkurti
Assistant Professor, Department of Mathematical and Computational Sciences, University of Toronto Mississauga
Dr. Florian Shkurti> joins the University of Toronto Mississauga as part of a bold, new, multi-faculty research centre in computer science and robotics. He carries out research at the intersection of mobile robotics, computer vision, machine learning, and human-robot interaction. His main research interests are centered around robot learning from visual demonstrations, imitation learning, decision-making under uncertainty, and enabling human users to effectively specify the desired behavior of their robots through as few interactive demonstrations as possible.
He is a PhD graduate of the Mobile Robotics Lab at McGill University, a recipient of the Natural Sciences and Engineering Research Council (NSERC) Alexander Graham Bell Doctoral Award and the Association for the Advancement of Artificial Intelligence (AAAI) Robotics Fellowship. His appointment will strengthen U of T's leading presence in robotics research and establish strong links with engineering, computer vision and machine learning communities.
Joined U of T: Summer 2018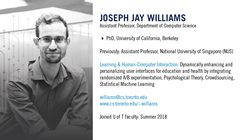 Joseph Jay Williams
Assistant Professor, Department of Computer Science
Dr. Joseph Jay Williams was previously an assistant professor at the National University of Singapore, a research scientist at Harvard University, and a postdoc at Stanford University. He received his PhD from UC Berkeley and his BSc from University of Toronto.
His research aims to optimize and personalize technology that helps people learn new concepts and change habitual health behaviors, by creating intelligent self-improving systems that integrate randomized A/B experiments, psychological theories, crowdsourcing techniques and statistical machine learning.
Joined U of T: Summer 2018