Josef Kates, U of T Computation Centre
June 2018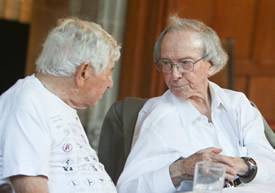 Josef Kates, a founding member of Canada's first Computation Centre at the University of Toronto, passed way on June 16, at the age of 97.
Born in Vienna, he fled from Nazi persecution to England from where he was sent to an internment camp in New Brunswick. Kates went on to earn advanced degrees in mathematics and physics from U of T and was later hired by the Computation Centre, where he built Canada's first computer, the U of T Electronic Computer Mark I (UTEC). Kates was "pioneer in the field of vacuum tubes – devices used in the 1940s for shoring computer data in memory."
Calvin "Kelly" Gotlieb (1921-2016) was also hired at the same time as Kates, the centre's first director, or rather chief computer. Kates worked on early hardware for the UTEC with Alfred Ratz, an electrical engineer and with other founding members of the centre, Beatrice "Trixie" Worsley (1921-1972), J. Perham Stanley and physicist J. N. Patterson Hume (1923-2013).
Kates subsequently founded and led a series of companies focused on computing and consulting, which achieved a number of world firsts including the first computerized traffic control system, the first computerized land use system and other achievements. He was honoured with an Order of Canada (2011), Queen Elizabeth II Diamond Jubilee Medal and was named Chancellor of the University Waterloo (1979-1985).
The service was held at Temple Sinai in Toronto on June 19.
Read: The story behind the first computer in Canada
Photo: Professor Emeritus C.C. "Kelly" Gotlieb (1921-2016) and Josef Kates (1921-2018) at the Department of Computer Science's 50th anniversary celebration in 2015.
---
Professor Emeritus Calvin C. "Kelly" Gotlieb
October 2016
The University of Toronto is mourning the loss of Professor Emeritus C.C. "Kelly" Gotlieb, BA, MA, CM, PhD, LLD, FRSC, who passed away on October 16 at age 95. C.C.
Kelly Gotlieb Professor Emeritus Gotlieb is widely regarded as the "father of computing in Canada" and was the inaugural director, now more commonly known as chair, of the Department of Computer Science when it was founded as a graduate unit in 1964.
Read the Globe & Mail: Kelly Gotlieb was the father of Canadian computing
---
Professor Emeritus J. N. Patterson Hume
May 2013
The Department of Computer Science is saddened by the loss of J. N. Patterson "Pat" Hume, one of the three founding members of our department and one of Canada's preeminent scientists.
Among his many contributions, Pat had a exceptional ability in being able to translate difficult issues into things that were accessible, be it through the academic texts he wrote, or his work. With Beatrix Worsley, Pat wrote the Transcode compiler for the FERUT computer, the first computer in Canada and only the second to be sold commercially in the world. (Transcode, a precursor of Fortran, was invaluable at the University of Toronto, enabling faculty and students at Toronto and elsewhere to write programs easily.) This gift for translating complicated subjects was shown best in Pat's collaboration with Physics professor Don Ivey, as they co-hosted the ground-breaking CBC program, "The Nature of Things," through which they made science accessible to general audiences.
Along with fellow chairs and pioneers Kelly Gotlieb and Tom Hull, Pat was part of the exceptional team of leaders who not only created the Department of Computer Science, but moreover made it into an outstanding department, building an international reputation for quality, and fostering a wonderful atmosphere that all faculty, staff and students still enjoy and treasure today. As chair from 1975-1980, Pat used his communication skills to gain recognition for and bring resources to the department. Having created a solid foundation with his colleagues Kelly and Tom, Pat always remained extremely supportive of future chairs.
For many years, up to the mid or late 1990s, the department held annual Christmas parties (and eventually Christmas/Hannukah parties and now seasonal parties). Pat Hume was, of course, an accomplished actor and artist, as well as a scientist, and he and John Mason took the lead in writing and acting in the annual skits that we performed in those parties. Given his CBC experience, it was not a surprise that Pat could make science funny and interesting. Those parties were part of the wonderful atmosphere that was essential in building the department. In addition, in those early days (with a relatively small department), the chairs would often have dinner parties for the department's faculty, and the Humes hosted many such events. On one such occasion, Pat prepared the meal single-handedly and carried on the meal as sole host!
Pat had a wonderful sense of humour and loved teaching. He could learn the names and faces of everyone in a large class and if someone came in late, he would welcome them by name to join the class. Pat taught for many years after retirement. When he decided he would no longer teach any courses, he remarked that "the students now don't laugh at the same things that I do". It was an insightful way to recognize the changing demographics, the importance of enjoying teaching, and the sense of when to move on to other things.
Pat's insights, humour and smile are a permanent part of our departmental legacy. We are all grateful to have had such a leader in the department, and we extend our deepest condolences to his family and friends. See the CIPS announcement here. See the U of T Magazine announcement here.

---
Professor Emeritus G. Scott Graham
May 2013
It is with great sadness that we announce the sudden death of Professor Emeritus G. Scott Graham on May 2, 2013. Scott joined the University of Toronto Mississauga faculty in 1974 and served in a number of roles including Discipline Representative for Computer Science and the Interim Chair of the Department of Mathematical and Computational Sciences. Scott was also passionately committed to academic integrity and worked as a Dean's Designate with respect to academic integrity cases from 2003 until his untimely passing. These roles indicate the boundless dedication Scott brought to the service he gave this university.
Scott's research interests lay in Computer Systems. He first worked on system modeling and memory protection schemes, about which he co-authored a book: Quantitative System Performance: Computer System Analysis Using Queueing Network Models (Prentice-Hall, 1984). More recently, Scott became known for his work in Digital Forensics. Even after his retirement in 2012, he taught a popular 4th year course on digital forensics, enthusiastically applied his knowledge to academic integrity cases as the Dean's Designate, and served as the President of the High Technology Crime Investigation Association, Ontario Chapter.
Scott, a true family man, leaves behind his wife Sheelagh and children Stephen and Shelby. He will be deeply missed by his colleagues in the department, the dean's office and members of the UTM community.
[Announcement by Prof. Deep Saini, Vice-President of the University of Toronto and Principal, University of Toronto Mississauga.]
---
Dr. James "Jim" Horning
January 2013
Dr. Jim Horning, a faculty member in the Department of Computer Science from 1969 to 1977, passed away on January 18, 2013 in Palo Alto, California, due to complications from a stroke.
Jim received a Bachelor's degree in Math and Physics from Pacific Union College in 1963, an M.Sc. in Physics from UCLA in 1965, and a PhD in Computer Science from Stanford University in 1969.
Jim's research interests were in the areas of programming language design, compilers and software engineering. Jim and one of his graduate students designed and implemented on of the first widely used LALR(1) parser generators. He was involved in the design/implementation of a number of programming language including XPL, SUE System Language, Euclid and Modula2+. His work with PhD student John Guttag led to the Larch system for algebraic specification, which is still a widely-used tool.
In the Computer Science Department at the University of Toronto, Jim was instrumental in establishing the software engineering program. He invented the Software Hut (a small software house) project that was widely adapted as a tool for teaching software engineering. Jim was a founding member and later chair of the Computer Systems Research Institute/Group which provided an important venue for collaborative system research between the Computer Science and Electrical Engineering Departments. He supervised a number of MSc and PhD students, many of whom went on to make significant contributions to Computer Science.
After leaving Toronto, Jim worked at major Silicon Valley research organizations, including Xerox PARC and DEC Systems Research Center. He was very active in ACM as an ACM Fellow and as a member of the ACM Committee on Computers and Public Policy from 1985.
From Professor Emeritus Dave Wortman: "I had known Jim since we were graduate students together at Stanford in the late 1960s. He and I were among the inaugural members of the graduate program in computer science at Stanford. Jim's humor, wit and intellect will be greatly missed by his many friends and colleagues."
---
Professor Avner Magen
May 2010
The Department of Computer Science (DCS) is deeply saddened by the untimely death of Professor Avner Magen, who was killed in an avalanche in Denali National Park, Alaska on May 29, 2010. Avner was an Associate Professor in DCS and the Department of Mathematical and Computational Sciences at the University of Toronto, Mississauga. DCS extends its heartfelt sympathies to his family, friends, and colleagues.
Avner was a superb scholar, making fundamental contributions to a number of areas of theoretical computer science that include metric embeddings, sublinear algorithms, convex programming, computational geometry and approximation algorithms. He was awarded an Ontario Early Researcher Award in 2007.
Avner did his undergraduate and graduate studies at Hebrew University and received his Ph.D. in Computer Science in 2002. After holding a postdoctoral fellowship at NEC Research in Princeton, NJ, he joined the University of Toronto in 2002, first as a postdoctoral fellow, and then as an Assistant Professor in 2004. He was promoted to an Associate Professor in 2009.
Avner was a wonderful colleague with a terrific sense of humor and great energy. He was a dedicated research supervisor and a superb teacher whose mentorship inspired his students and all those around him.
The loss of such mathematical brilliance will have a profound impact on his colleagues, collaborators, and the entire research community.
---
Professor Sam Roweis
January 2010
The Department of Computer Science and the University of Toronto is deeply saddened by the untimely death of Professor Sam Roweis on January 12, 2010. DCS extends its heartfelt sympathies to his family, friends, and colleagues.


Sam was an outstanding scholar, whose research in machine learning and statistical signal processing has had a profound impact within the machine learning community and beyond. His mathematical contributions spanned an extraordinarily wide range of areas, including dimensionality reduction, signal processing, machine learning and statistics. He applied his theoretical insights and computational expertise with enormous energy and great practical success to fields as diverse as astrophysics, speech recognition, and proteomics. His research is highly cited, and he received many prestigious awards, including a Sloan Research Fellowship, a Premier's Research Excellence Award, and appointments as a Canada Research Chair and a Fellow of The Canadian Institute for Advanced Research.


Sam did his undergraduate studies at the University of Toronto in the Engineering Science program, and received his Ph.D. from the California Institute of Technology in 1999. After two years as a Research Fellow in the Gatsby Unit at University College London, he joined the Department of Computer Science at the University of Toronto as an Assistant Professor and was promoted to Associate Professor in 2006.

Sam was valued as a colleague, mentor, teacher and wonderful friend. His energy, enthusiasm and love of research were boundless and inspired everyone who worked with him. He was a superb teacher and dedicated research supervisor, who cared deeply for his students. Sam spent time at Google Research during a research leave and left DCS in September 2009 to join the Department of Computer Science in the Courant Institute at New York University. He maintained a Status-Only Professorship and very strong connections with DCS and we are devastated by the loss of his brilliance and charm.
---
Professor Emeriti Alfred Lehman
May 2006
Alfred (Al) Lehman, Professor Emeritus, passed away on May 8, 2006.
Al received his PhD from the University of Florida in 1954 and joined the Departments of Computer Science and Mathematics at the University of Toronto in 1965. Although Al didn't publish many papers, he was a very deep and brilliant researcher. He supervised two PhD students, Tim Walsh and Greg Heil. In 1991 he received the prestigious Delbert Ray Fulkerson Prize for his work in the late 1970s on width-length inequalities. This belated recognition arose from Manfred Padberg's discovery that Al had solved in great generality an open problem that had arisen from the work of Robertson and Seymour. He is survived by his wife, June Mines. He was truly a kind and gentle genius.

From Professor Derek Corneil:
"Soon after Al arrived at the University of Toronto, I took his graduate course on Graph Theory. Many times during mathematical conversations with Al in the intervening years, he would comment "of course, you remember that from my course". I never had the heart to tell him that my memory wasn't in the same league as his. Despite deteriorating health, Al was a regular attendee at a broad range of Computer Science and Mathematics seminars. Having known him for over 40 years, I cannot remember Al arriving at, or leaving, a seminar early!"
---
Professor Kenneth C. Sevcik
October 2005
It is with great sadness that we report that Professor Kenneth C. Sevcik passed away on October 4, 2005. Ken received his B.S. in 1966 from Stanford University and his Ph.D. in 1971 from the University of Chicago. Ken joined the faculty at the University of Toronto in 1971, and was Chair of the Department from 1990 to 1992. He also served as Director of the Computer Systems Research Institute (CSRI) and on the Governing Council of the University of Toronto.
Ken's work in performance evaluation has been called "an exemplar of experimental computer science." He was a founder of the field of computer system performance. He made influential contributions to both the theory and practice of computer system performance evaluation. His seminal work on queueing network models has had a lasting impact on industrial practice and provides a foundation for much of the performance research that has followed it. Database researchers know him for his work on grid files, an early multidimensional indexing technique that remains on the required reading list in most Ph.D. programs, and for his extensive work on database system performance. He was an early member of the ACM SIGMETRICS Board of Directors, the premier organization for the promotion of research in performance analysis. In 2004, he received the SIGMETRICS Achievement Award in recognition of a career devoted to sustained, long-lasting, and high-impact contributions to computer system performance evaluation in the technical, leadership, and mentoring dimensions. In his career at the University of Toronto, he graduated over 50 M.Sc. and 20 Ph.D. students in performance evaluation, parallel processing and database systems. His students have in turn produced a large and distinguished family tree that includes more than 200 Ph.D. offspring as of 2004.
Writing in connection with Ken's 60th birthday celebration in 2004, four of his early students said, "
Ken managed to be our friend as well as our advisor, without letting either of those relationships interfere with the other. This is at the heart of the immense respect we have for him, both professionally and personally. In the final tally, how well one has done as an advisor is reflected in how much one's students have learned. We owe Ken a terrific debt for the lessons he gave us about performing and leading research, and about how to lead our lives
."
Ken was an exceptional mentor, an exceptional academic, and a man of profound wisdom. He leaves a tremendous hole in our University and our hearts.
---
Professor Alberto Mendelzon
June 2005
It is with great sadness that we report that Professor Alberto Mendelzon passed away on June 16 after a two year struggle with the illness that finally took his life.
Alberto, originally from Argentina, received his Ph.D. from Princeton in 1979 and joined the University of Toronto in 1980. Alberto was an international leader in database theory. His work was inspired by the intriguing problems that lie at the heart of understanding how data can be modeled, managed, and queried in computer systems. He established fundamental and influential results in the theory of data management with many applications that only came decades later. For example, his work provided the basis for languages used to search the web. The volume of these applications is a testament to the truly foundational nature of his research.
He was one of our most prolific researchers, who published some 110 refereed articles in journals, conference proceedings and books. He supervised 31 M.Sc. students and 17 Ph.D. students. The volume of research funding he brought to the University is impressive. He also served the database research community by editing journals, organizing conferences, and in many other ways.
In 2003, Alberto became the first Chair of the then newly created Department of Computer and Mathematical Sciences at UTSC, a position he had to resign from only a few months later due to the onslaught of his illness. This did not slow down his research productivity or teaching, he kept up the pace of his work until the very last days.
---
Professor Raymond Reiter
September 2002
Raymond Reiter, professor of Computer Science at the University of Toronto, fellow of the Royal Society of Canada, and winner of the 1993 Research Excellence Award of the International Joint Conference on Artificial Intelligence, died on September 16, 2002. Reiter, known throughout the world as 'Ray,' made foundational contributions to artificial intelligence, knowledge representation and databases, and theorem proving. Among many other things, he was the prime mover in the Cognitive Robotics initiative that led to a whole new program of research.
From Fiora Pirri, Geoffrey Hinton, and Hector Levesque:
"
Ray dedicated his life to his research with the wonder of a child, the fearlessness of an explorer, the precision of a mathematician, and the tirelessness of a researcher who found shallowness and confusion intolerable. He leaves a legacy of groundbreaking, deep insights that have changed the course of AI
."
---
Professor Tom Hull
August 1996
Tom Hull died suddenly on August 15, 1996, in his 75th year. He had for nearly 20 years struggled with a less than perfect heart, but managed to enjoy life and contribute his full share to the Department he was so instrumental in building. Tom was Chair from 1968 to 1975, and during that time he master-minded the major growth of the department's faculty. In fact, many of the Ph.D. students he persuaded to come to UofT are now senior faculty at DCS.
Tom's main research interest for many years was in the numerical solution of ordinary differential equations, but later in accurate and efficient implementations of complex elementary functions, polynomial root-finding algorithms, and programming language facilities (especially precision control and exception handling) for numerical computing.
He received many honours, among them Fellow of the Royal Society of Canada, Fellow of the Association for Computing Machinery, and was awarded an honorary doctorate from Dalhousie University. He was a Professor Emeritus of the Computer Science Department. Tom was a scholar and researcher to the end, having just finished his last research paper the day he died.